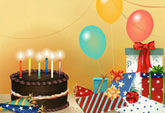 I am a grown up.
A woman.
An adult.
No spring chicken.
It will soon be my birthday 💥💥💥
When it comes to birthdays, while we complain about having them , age-wise .. I love them .. age-wise and everything else.
I lived another year.
I made it through a year of good times, bad times, sad times and some happy times.
I am well.
I am independent.... most of the time.
I get homesick for NY and I miss friends and family in NY but I am not suffering where I am.
I get lonely but what do you think cats are for ???
Someone in my family, younger than I , died the other night .. I am very aware of how lucky I am ..how blessed that life and I are getting along well together ..
So while I love a good Birthday Party and I do love some good Birthday presents and sweets ..
I especially love the fact .. that I am around to celebrate and that someone thoughtful shared that with me ..
" Count your life by smiles, not tears "
Thank you 💕